Love, Ashley
An "unplugged ceremony" may be something you have heard of, or maybe not. It is rather new in the scheme of things in this newer technological world we find ourselves.

Everywhere you look you can find the tops of people's heads because they're all looking down at their devices! Have you been out to dinner with your besties or your lover only to feel like you should have stayed home in your jammies, watching Scandal and drinking wine in the dark? It isn't a good feeling when you can't hold your company's attention for lack of having a screen attached to your face. Now, imagine it is your wedding day, you have put in months of stressful planning and you finally get to unveil that dress to your entire contact list of friends and family. The doors open and you start your march down the aisle only to be met with the tiny flashes of iPhones and not a single smiling face to be found.
So here is where this term "unplugged ceremony" comes from. Because that is so not nice! You want to see the loving warm smiles of your best friends and closest family members. It is so important to you that they are a part of your big moment and its like they aren't even there because their face is covered by a mobile device. So you have an unplugged ceremony and ask that everyone leaves their phones in their pockets until the dancing starts.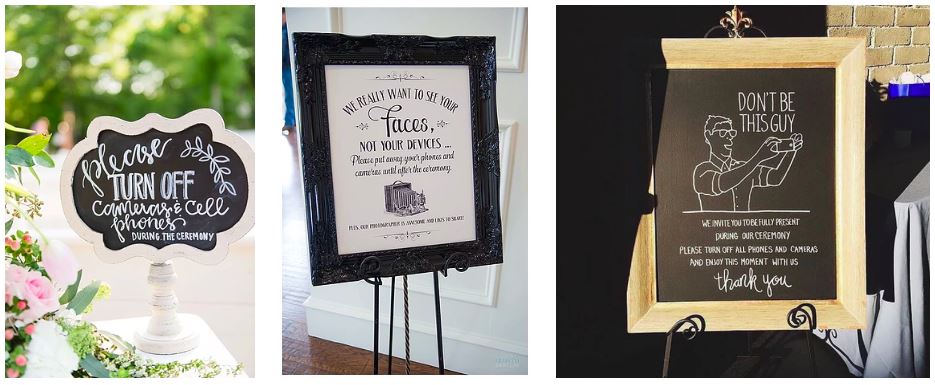 Images borrowed from Pinterest.com
If you go onto Pinterest (at your own risk! Pinterest is a black hole that you will come out of only after you have planned 3 other weddings and your first home!) you will find many cute and witty ideas to get your message across. One bride recently gave me this little tidbit and said it was totally cool to share it, so here we go.
This is the bit they gave to their officiant to say, and she said it went off without a hitch! Everyone giggled and put away their phones.
 "On behalf of the bride and groom, I invite you to be fully present with us during this special moment. As a courtesy, please turn off all cameras, phones, and other electronics for the duration of the ceremony.
"Megan and Rory, do you promise to share your professional photos with the friends and family who are gathered before us as soon as you receive them?"
"We do."
They created a stylish (free) wedding website using this site and on the RSVP page they put in this little "heads up"...
Our Unplugged Wedding
We would like to invite you to be truly present with us on this special day. It is very important to us that you please refrain from the use of cellphones, cameras, and any other electronic devices during the most intimate parts of the evening. We have a wonderful photographer who will capture our ceremony and its following special moments — we encourage you to capture how it feels with your hearts, without the distraction of technology. We will share a link of all our professional photos with all our guests after the wedding.
We ask that you refrain from using any electronic devices during these specific moments: anytime during the ceremony, the bridal party entrance, first dance and mother/son and father/daughter dances, toasts, and the cake cutting. At all other times, feel free to snap away.
Outside of the specific moments listed above, we encourage you to use your cameras as much as you desire! If you use Instagram, we invite you to use our hashtag #yoursupercutehashtaghere to make it easy for everyone to share their photos with others.
Why Unplugged?
There are three main reasons why we are choosing to have an unplugged wedding:
There's the technical reason - camera flashes and device screens can disrupt our photographer's flash and ultimately her ability to capture the perfect photo during important moments that won't ever repeat themselves, like first kisses and first dances.
There's the aesthetic reason - if you're holding up your camera, cell phone, iPad, etc, there's a good chance those screens will show up bright and glaring in our professional photographer's photos, which we would like to avoid. There also is inevitably the added noise of devices beeping and buttons clicking, which we'd like to minimize.
Finally, and most importantly, there's the personal reason - we want you to be truly present with us on this special day, which is best experienced without the distractions of technology. We have a wonderful photographer who will capture our ceremony and its following special moments - we encourage you to capture how it feels with your hearts.
I strongly encourage you to take after this brilliant couple and ask your guests to bear witness to your love and honor your request for their full presence at your wedding.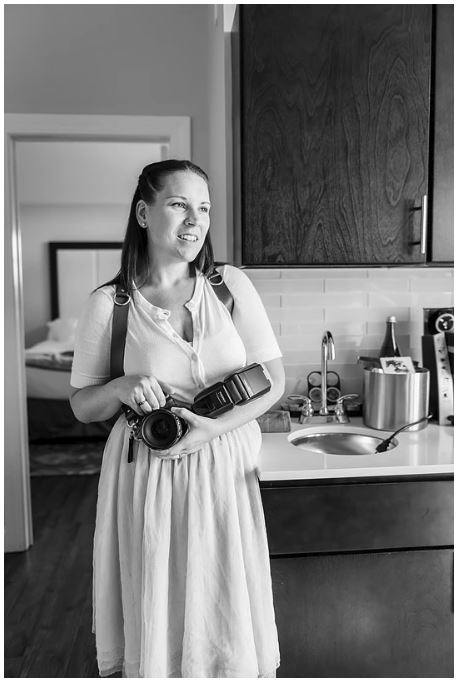 That's me, doing my thing... I love what I do. You asking for an unplugged wedding is the highest compliment you can pay me. Letting me know that you trust me 100% to be the only one with a camera during your big moment feeds my soul. Thank you!